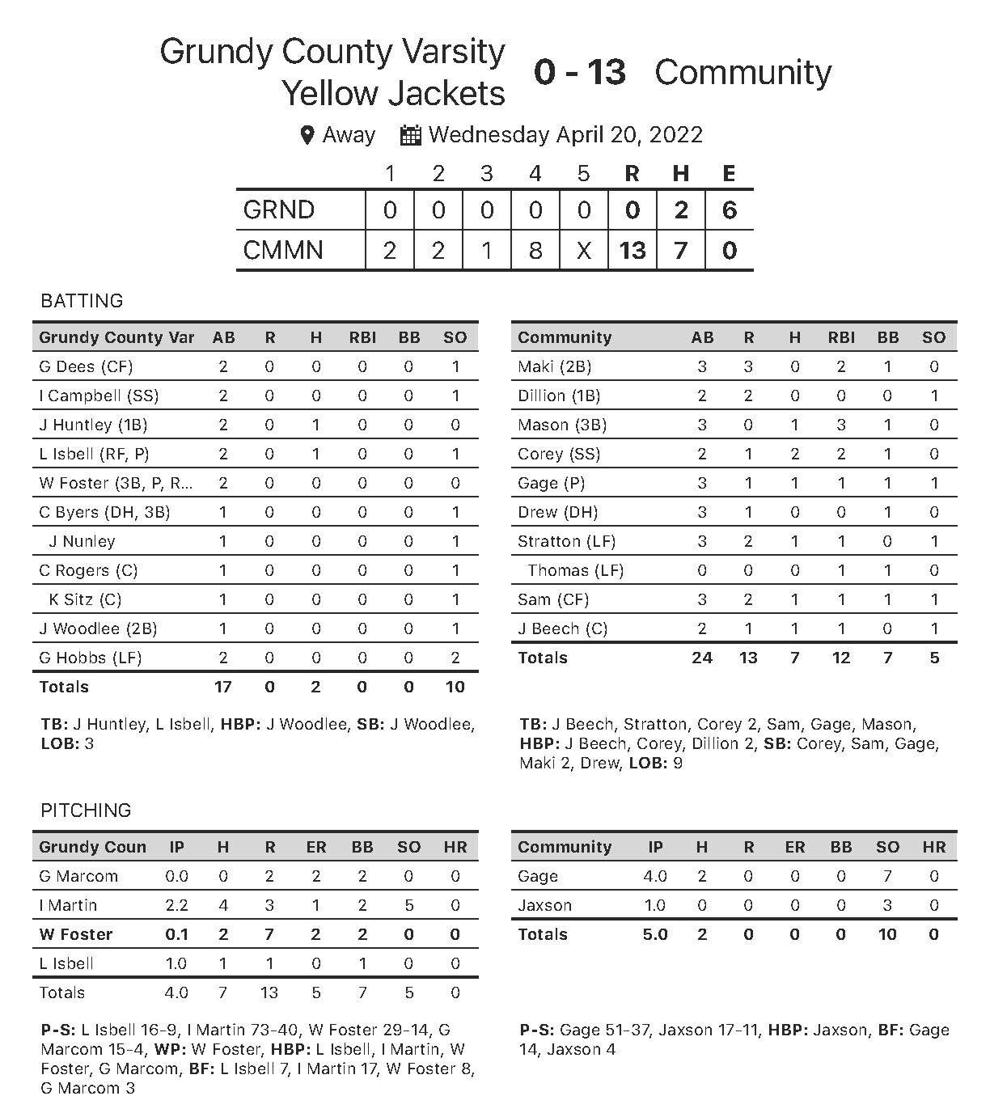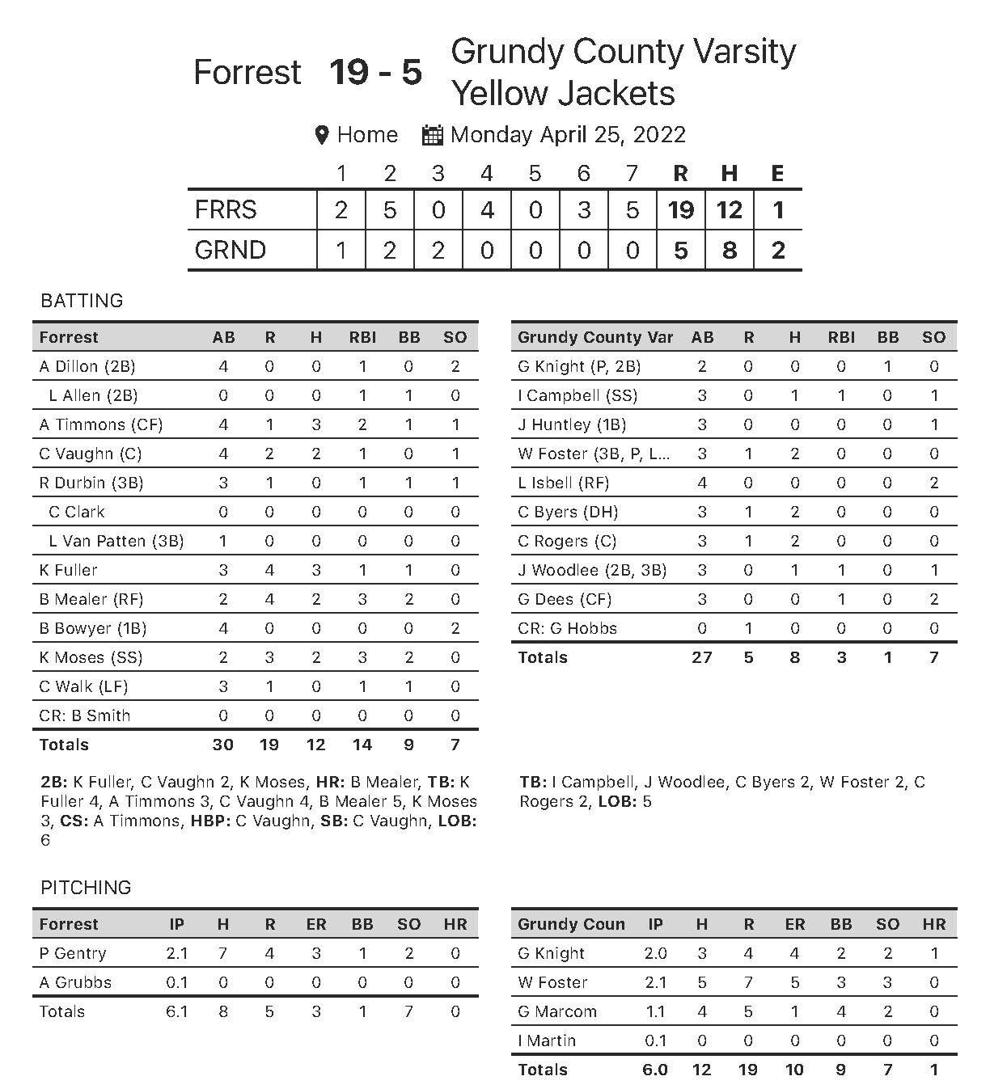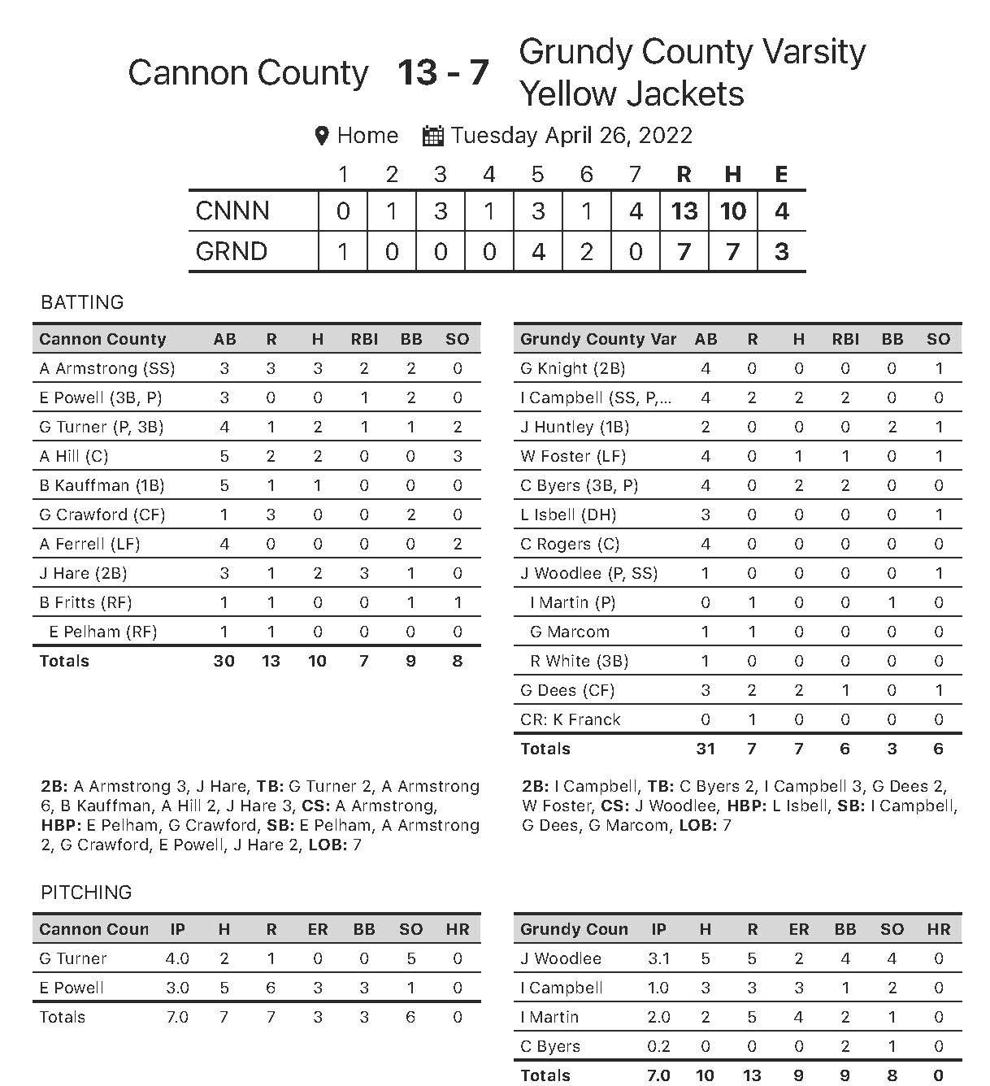 The Yellow Jackets' longest losing streak of the season was extended to 12 games with losses to district foes Community, Forrest and Cannon County.
Grundy (3-20) was shut out 13-0 at Community last week before falling 19-5 Monday to Forrest and 13-7 Tuesday against Cannon.
The Jackets were two-hit in last Wednesday's game in Unionville. Community totaled just seven hits in the five-inning contest but took advantage of six GCHS errors to force the mercy rule. Of the 13 Viking runs, only five were earned.
Despite a pair of runs in each of the first two innings and a fifth run in the third, it was a disastrous fourth inning that doomed the Yellow Jackets. Will Foster entered from the bullpen and worked out of a two-on jam in the third, but he was unable to record an out in the fourth. He gave up just two hits, but three errors, two walks and a hit batsman helped the Vikings to their 13-run lead.
Logan Isbell finished up the inning on the mound, yielding just one run, but the damage was already done. Jaxon Woodlee was hit by a pitch and stole second but was left stranded at the end of the fifth.
Isbell and Jarrod Huntley collected the Jackets' only hits, while Woodlee represented their only other baserunner.
Grundy returned to Coalmont Monday to begin a four-game homestand, but the stretch got off to a rocky start with a 19-5 loss to first-place Forrest High.
The Jackets totaled eight hits and trailed just 7-5 at the end of the third. Woodlee, Isaac Campbell and Garrett Dees each drove in a run, but the well ran dry soon after.
Forrest scored four runs in the fourth and three more in the sixth. Meanwhile, Grundy managed just one hit through the final four frames. Charles Byers reached on an error in the fifth and Foster singled in the seventh to represent the last runners to reach.
Foster, Byers and Colton Rogers each tallied two hits to pace the offense.
The Yellow Jackets dropped their second game of the homestand 13-7 Tuesday to Cannon County. The competitive game saw Grundy trailing by just two runs after the sixth inning, but the Lions tacked on four insurance runs in the top of the seventh to secure the win.
CCHS' Elijah Pelham was hit by a pitch with the bases loaded, and AJ Armstrong smacked a double to center to plate two. Armstrong later scored on a passed ball to wrap up the rally.
Grundy's seven hits came courtesy of Campbell, Foster, Byers and Dees. Campbell totaled two hits, a double, two RBIs and two runs.
The Yellow Jackets' final two games of the regular season are due up. Grundy hosts South Pittsburg at 5 p.m. Thursday and Van Buren County on Monday at 5 p.m.