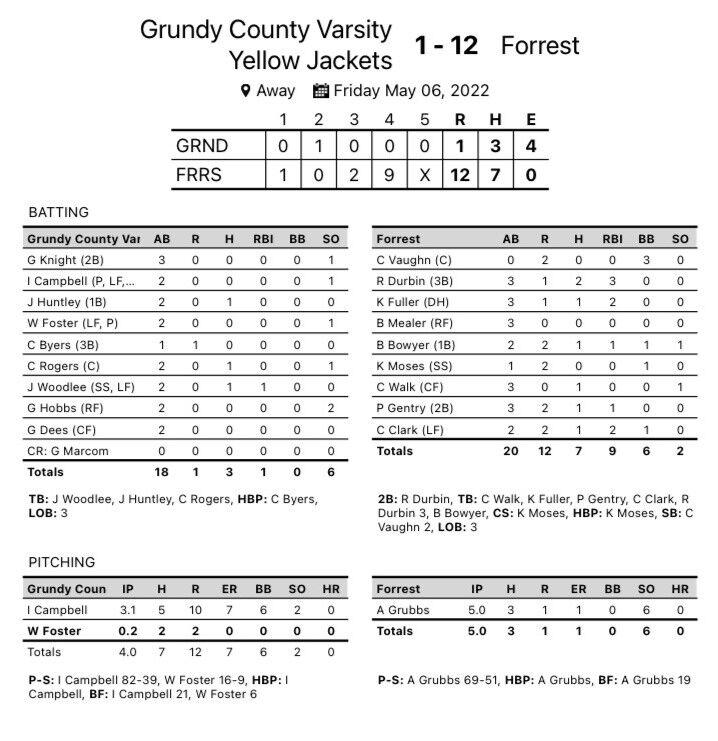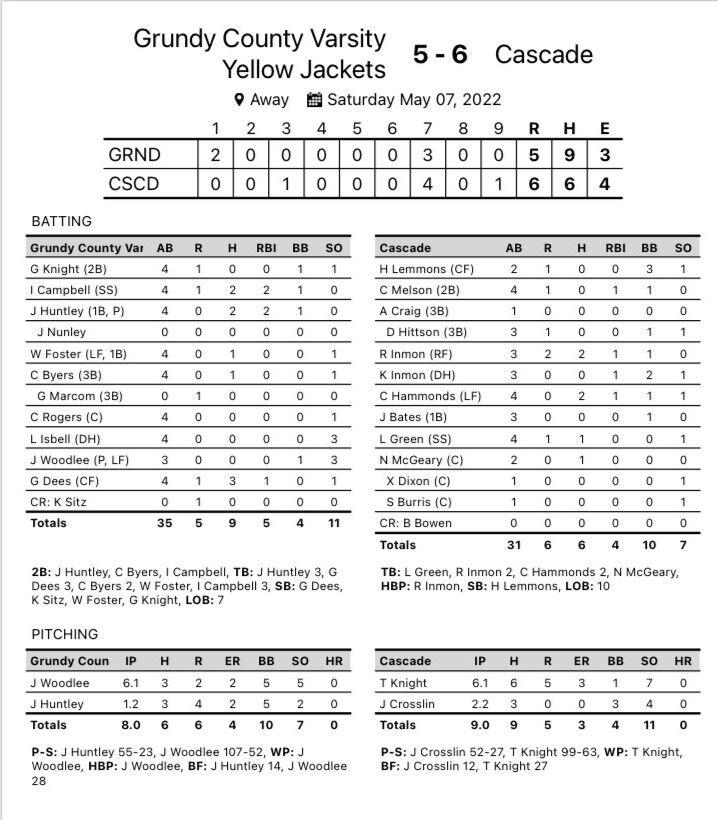 Losses at Forrest and Cascade last week eliminated the Grundy County baseball team from the District 7-2A Tournament.
The fourth-seeded Yellow Jackets (4-23) fell 12-1 to top-seeded Forrest in the opening round last Friday before a tough 6-5 loss in extra innings to Cascade on Saturday knocked GCHS from the postseason.
FHS tallied just seven hits against Jackets pitching, but four Grundy errors led to five unearned runs in the mercy-ruled contest. Rockets starting pitcher Ashton Grubbs tossed a five-inning complete game and allowed a run on only three hits.
Jaxon Woodlee, Jarrod Huntley and Colton Rogers collected the three GCHS hits, while Woodlee knocked in the lone run.
Following the loss to Forrest, Grundy dropped to the losers bracket for a matchup with third-seeded Cascade.
The game went the distance and then some before coming to a heartbreaking end in the bottom of the ninth.
Huntley put GCHS on the board with a two-run single in the first and Isaac Campbell doubled home two in the seventh to give the Jackets a 5-1 lead. Woodlee cruised through six innings on the mound, striking out four and walking just three, but trouble arose in the bottom of the seventh.
Woodlee recorded his fifth K and walked the next batter. With one on and one out, Huntley entered from the bullpen. The reliever gave up an RBI single and gave up a bases-loaded walk, but picked up the inning's second out on a strikeout. With the bases still loaded, an error allowed the tying run to cross. Huntley escaped the inning two pitches later on a popout back to the bump to send the game to extras.
The next and final run of the game scored in the bottom of the ninth. Following a pair of walks, Champions left fielder Caden Hammond singled on a flyball to right to plate Ryan Inmon for the walkoff win.
Grundy out-hit Cascade 9-6 despite the loss. Campbell and Huntley were both 2-for-4 with a pair of RBIs each, while Garret Dees was 3-for-4 with an RBI. Will Foster and Charles Byers rounded out the offense with a hit each.
The young GCHS baseball team finished the season with a 4-23 overall record and a 0-13 mark in district play.