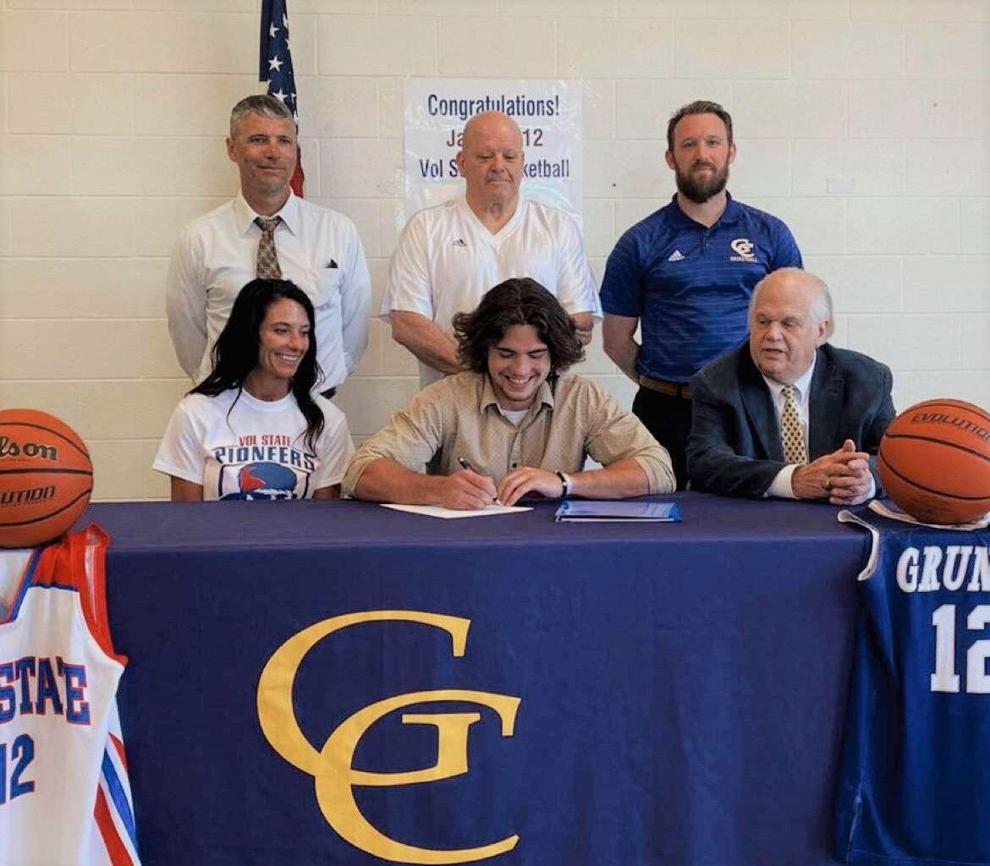 Grundy County's Jaden Ruehling signed to play basketball at Volunteer State Community College last Tuesday in front of a small gathering of family, coaches and former teammates at Grundy County High School.
"It feels amazing to sign," Ruehling said. "I am really excited to know I'll be playing college basketball. It was a long time coming."
The 5-foot-11, 180-pound point guard enjoyed an outstanding four years as a Yellow Jacket, totaling nearly 1,100 career points. Along with being crowned the 2021 District 7-2A Tournament MVP, he was also a two-time district champion and District All-Tournament and All-Region selection.
He led Grundy County to an exciting 53-52 win over Cumberland County when he hit a buzzer-beating 3-pointer for the 2021 District 7-2A Tournament title at Sequatchie County High School.
But despite his robust roundball resume, college basketball wasn't always the dream for Ruehling. The decision to ink with Vol State came after Ruehling took an unexpected year off from school.
"I wanted to play baseball after high school," Ruehling said.
The two-sport star was a four-year starter on the diamond for the Jackets. He batted better than .400 for his career and was a two-time All-District, District All-Tournament and All-Region pick, but packed college baseball rosters due to COVID-19 redshirt holdovers kept Ruehling from landing a spot with a team.
"I tried out for a ton of teams, but none of them were recruiting heavily because they had so many guys coming back," Ruehling said. "They kept telling me they would try to get me the next year."
So, Ruehling decided to sit out the 2021-22 academic year. It wasn't until December while watching basketball film of himself that he began entertaining the idea of playing college basketball.
"All that time, I was still working out in the gym and shooting baskets while I was trying out for baseball teams because I love basketball," Ruehling said. "So, from January until just recently, I was in the gym all the time, working out every day and practicing with the Grundy boys' basketball team.
"That kept me in good shape, and Coach [Kevin] Butner would work with me on my dribbling and do drills with me. All of that helped get me back into playing shape and to the point of where I am now."
Over the summer, Ruehling began reaching out to different basketball programs, and Vol State was the first to give him a call. Pioneers head coach Rusty Melvin gave him tryout dates and Ruehling took full advantage of the opportunity.
"I went to the first three of four tryouts," Ruehling said. "Before the fourth, Coach Melvin called me. He told me they really liked me and that they were going to offer me [a scholarship]. I didn't try out for anyone else after that.
"After taking a year off, this feels like a much bigger accomplishment than it already is."
Melvin, who coached GCHS alumna Carla Northcutt-Glick in the early 1990s at Cleveland State, was highly interested in signing his second Grundy recruit after just one practice.
"My staff was very impressed with him at the first tryout," Melvin said. "There were 31 young men at that session. When he came back the next time, we met, and I watched him closely. He seemed to get a ton of offensive rebounds from the back side and played with a high motor, and I think that is the most important part of a young player's game. I decided he is a winner and loves the game like I do."
Ruehling is the third basketball signee in two years for GCHS head coach Butner.
"I am proud of Jaden," Butner said. "He has accomplished so much, and I know he is going to go to Vol State and do exactly what he did for Grundy. He plays hard, he has a high basketball IQ and he is a high-character guy. He will be a great representative for our program."
Vol State, located in Gallatin, Tennessee, is a member of the National Junior College Athletic Association and competes in the Tennessee Community College Athletic Association. Last season, the Pioneers were 7-18 with a 5-13 conference mark.