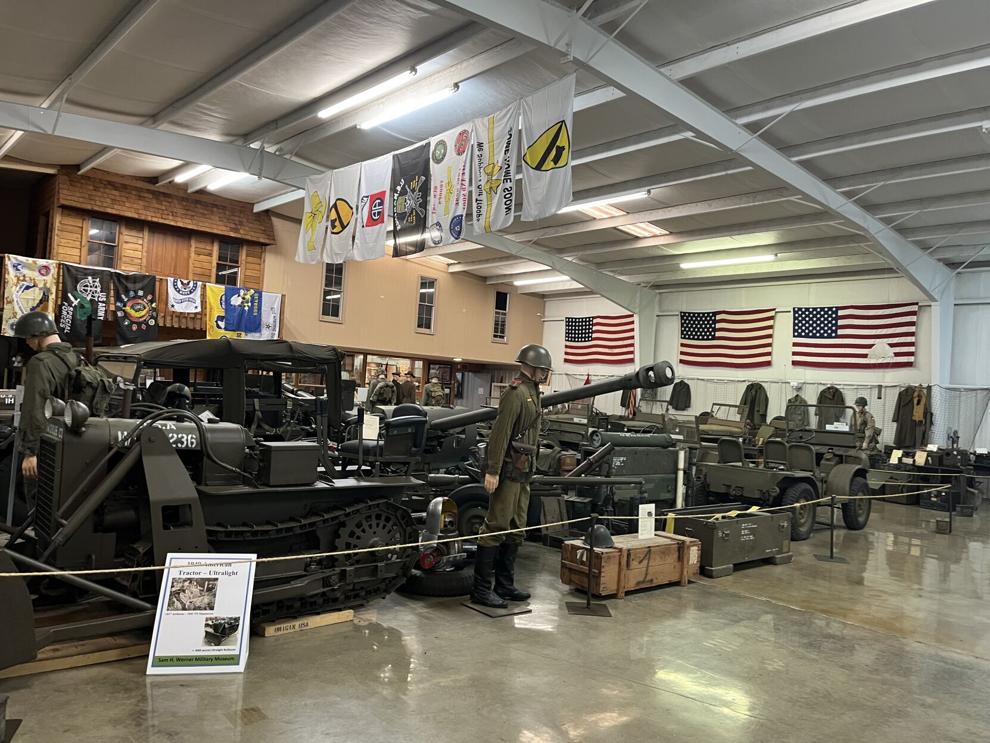 Sam "Bud" Werner (1933-2011), a lifelong resident of Tracy City, served in the Army in Europe from July, 1956 until July, 1958, and, upon returning home, began collecting military machines and vehicles, among other things. Werner never married and dedicated his life to acquiring "OD" (or olive drab) items. If you have lived on the mountain for any length of time you may have noticed a lot full of rusted out vehicles and machinery on 2nd Street and Hwy 41 in Tracy. The man responsible for the compendium was Sam "Bud" Werner, Jr. While the lot is still home to a variety of interesting machinery and vehicles, the jewels of his collection are housed at the museum that bears his name in Monteagle.
"Before he passed away, Bud asked several of us to start a museum in his name that honored all veterans and that would be a teaching facility for our younger generations," museum board member Parker Lowndes explained.
In 2017, his collection, along with items from friends and fellow collectors, were moved to the former location of Wiggins Coal & Trucking Company in Monteagle. Proprietor Bobby Wiggins not only ran his company out of the buildings, but also stored his extensive car collection there. The building was acquired from Wiggins and wife, Doris, and opened as the Sam H. Werner Military Museum in spring of 2017. It was the perfect location as there was ample room to display Werner and friends' finds, and it included a garage to work on and restore military vehicles and machinery that have been procured.
In addition to the collection from Werner and friends, the museum houses uniforms, equipment, letters, photographs and the like from local veterans. There are many pieces on loan to the museum from families across the region as well as permanent pieces that were donated.
"Bud had an eye for the unusual," Lowndes said. The museum has the complete collection of the four prototype lightweight Jeeps designed for the 1943 Glider Program as well as several other extremely rare prototypes.
Museum board members are Parker Lowndes, Freddie Cunningham, P.C. Flury and Mark Stewart. There are also board advisors and volunteers who give tours and keep the facility running.
Besides housing a large collection of wagons, vehicles, tanks and uniforms dating from WW I to Present date, the museum also highlights Camp Forrest in Tullahoma and the 1941-44 Tennessee Maneuvers.
Camp Forrest was one of the largest U.S. Army training bases during World War II. The camp served as a training facility for eleven infantry divisions, two battalions of Rangers, numerous medical and supply units, and a number of Army Air Corps personnel. It was an active Army post between 1941 and 1946. In addition, the camp provided logistical support for the massive Tennessee Maneuvers conducted at intervals from 1941 through early 1944. Tennessee Maneuvers in Middle Tennessee hosted the army's preparations for the eventual invasion of Normandy in 1944. The program trained and prepared soldiers before sending them to the European theatre to fight. Between September 1942 and March 1944 nearly one million soldiers passed through the Tennessee Maneuvers area. The camp also employed thousands of civilians in various support roles and housed German prisoners of war.
According to the Tennessee Encyclopedia, approximately 800 alien civilians were interned at Camp Forrest from January until November 1942, making the camp the first civilian internment camp in the nation. More than 22,000 Germans, Italians, and Japanese were kept there from 1942 through 1946. Prisoners worked all over the camp in various places such as the hospitals, kitchen, bakery, and automotive shop; as well as on several surrounding farms. The last prisoner left on April 13, 1946.
The museum has obtained letters, photographs, kitchenware and much more relating to Camp Forrest. The majority of the artifacts and buildings at Camp Forrest have disappeared over time, though thanks to the efforts of the Werner Museum's board, more relics are coming to light.
The Sam "Bud" Werner Military museum is free to the public, and donations are encouraged. The museum is open from Tax Day to Thanksgiving, Fridays and Saturdays from 10 a.m. to 3 p.m. Private tours can be scheduled year-round.