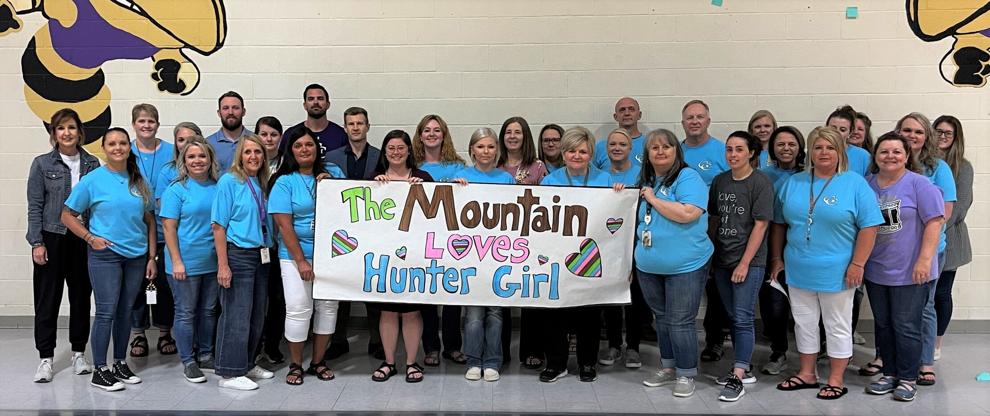 Hunter Wolkonowski, also known as Hunter Girl, continues on "American Idol" as America's votes put her into the show's Top 5 Sunday.
Wolkonowski, a Franklin County native, performed two songs on Sunday night's show. Her first song choice was "You Broke Me First" by Tate McRae.
Before taking the stage, Hunter Girl had the opportunity to sit down with rapper will.i.am for advice before performing. The rapper tells Hunter Girl she has a really awesome voice.
"The control is pretty superb," will.i.am said. "You would be an amazing artist to record because you have a perfect recording voice."
After her first song performance, Judge Katy Perry praised Hunter Girl saying she is such a natural on stage and is becoming the artist she has dreamed of.
Her second song choice was "Like My Mother Does" by Lauren Alaina and dedicated to her mom, Urla Wolkonowski.
Before her performance, Urla is shown telling Hunter how excited she is for her. "You've worked so hard and we've watched you since you were a little girl," Urla said. "This is all you have ever wanted to do."
An emotional Hunter Girl tells her mom which song she will be singing.
"I just want to dedicate that song to you because I've always wanted to be like you when I grow up," Hunter said. "I know one song can't sum up everything you have done for me, but if for three minutes you get to feel special for a day – you deserve it."
After Hunter Girl's moving performance dedicated to her mom, Perry reminds Hunter Girl of her platinum ticket she received when she first auditioned in February and that she still deserves that ticket. She also tells Hunter Girl that she has a platinum heart.
Judge Luke Bryan tells Hunter Girl it was great song choice and a great performance.
Judge Lionel Ritchie says Hunter Girl did a fabulous job of not only selling the song but also at showing her feelings that she has for her mother.
Hunter Girl will perform again on May 15 along with the other four remaining contestants. At the end of the show, the Top 3 will be announced.
The season finale is May 22 when a winner will be announced. The winner will receive a cash prize and a record deal with Big Machine Records.
There are three ways to vote for Hunter Girl. You can vote online at americanidol.com/vote, on the app, and by texting 4 to 21523. You can vote 10 times on each platform.
You can follow Hunter Girl on Facebook by searching HunterGirl Music.
Hunter is the daughter of Chris and Urla Wolkonowski. She is also the granddaughter of Riley and Pat Anderson of Grundy County.