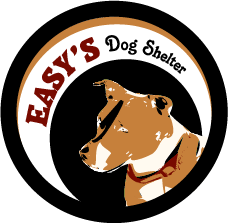 Easy's Dog Shelter is looking for volunteers to donate their time and more. Easy's currently has 16 inside kennels and 4 outside kennels that are used mostly in the summer. There are close to 40 dogs that the shelter has rescued and are in need of placement in a fur-ever home. The shelter is completing construction on a new building that will allow for more rescues to await adoption.
Since the shelter opened in June 2021, approximately 175 dogs have been adopted out. Since Andy Wostal, owner and operational director of Easy's, has been on the mountain, he has adopted out over 500 dogs while sheltering them at his home.
"We are in dire need of volunteers and cinder block layers," Easy's board member Lynn Borchert said. "One day a month or even one hour a month would help. If people don't want to help with cleaning and feeding the dogs- a twice-a-day chore - but simply want come to visit, play with, walk, and pet the dogs to unwind from their busy schedules that would be greatly appreciated as well. All these little creatures want is to be loved and find a caring, safe home."
The non-profit accepts donations of all types: blankets, food, towels, toys, collars, beds, and of course fencing and posts, monetary donations for medications, spay/ neuter services, vet visits, etc.
The shelter is located at 1607 Altamont St, Tracy City and is open daily from 8 a.m. to 11 a.m. or by appointment. Call (423) 760-7922 or visit easysdogshelter.com for more information or to schedule an appointment.