"Above the titles of wife and mother, which, although dear, are transitory and accidental, there is the title human being, which precedes and out-ranks every other." Mary Livermore
Mary Ashton Rice (Livermore) was born in Boston, Massachusetts on December 19, 1821. She was a direct descendant of an early Puritan immigrant to Massachusetts Bay Colony.  Livermore graduated from Boston public schools at age 14. She attended school at an all-female seminary in Charlestown, Massachusetts.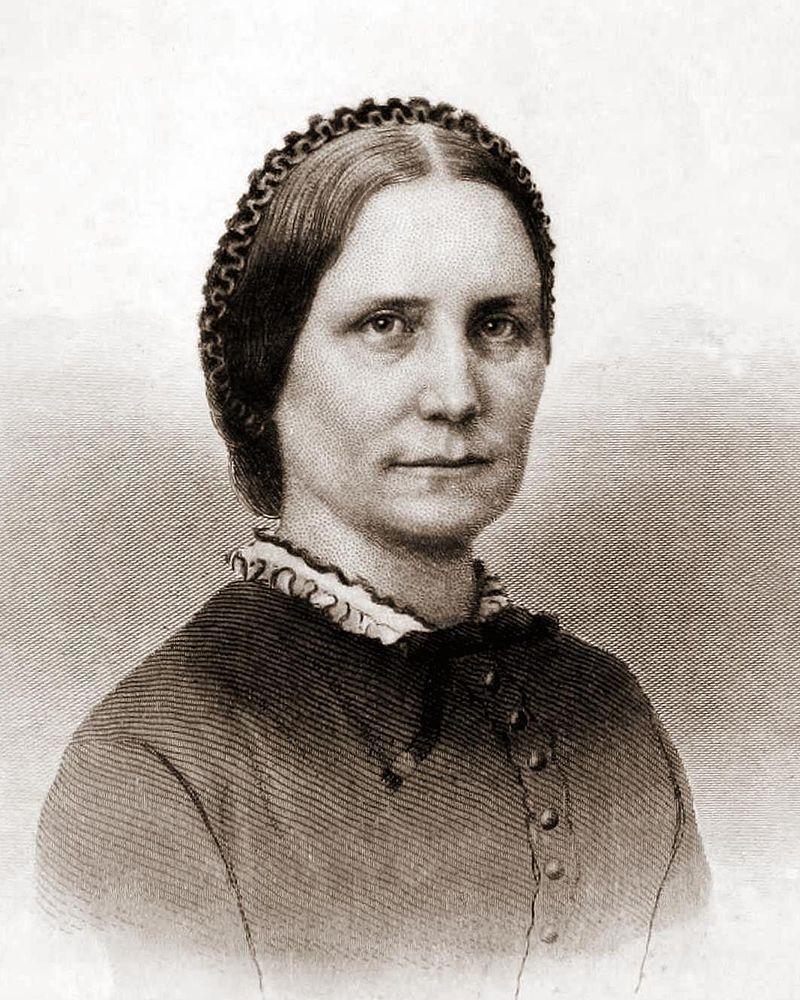 In 1839, she started a job as a tutor on a Virginia plantation, witnessing firsthand the institution of slavery. After this experience she became an abolitionist. In 1842, she left Virginia and took a position in a private school in Duxbury, Massachusetts
In May of 1845, she married Daniel P. Livermore, a Universalist minister. In 1857, they moved to Chicago. In that year, her husband established the "New Covenant," a Universalist journal of which she became associate editor for twelve years, during which time she frequently contributed to Universalist periodicals.
During these pre-war years, Mary became known for her involvement in the temperance movement, which was her focus after her marriage. Mrs. Livermore organized a juvenile temperance group, the Cold Water Army, for whom she wrote short stories and read them aloud. In 1857, the Livermores and their three daughters moved from Massachusetts to Chicago, where Mary assisted her husband in editing the Northwest Universalist paper, "The New Covenant". There, she also founded two charities, the Home for Aged Women and the Hospital for Women and Children.
As a member of the Republican Party, the Livermore's campaigned for Abraham Lincoln in the 1860 presidential election. In the Chicago Wigwam in 1860, Livermore was the only woman reporter assigned a location for work amongst over hundreds of male reporters. She published a collection of nineteen essays entitled Pen Pictures in 1863.
On a trip to visit her family in Boston, she witnessed at every railway stop scenes of chaos prompted by the North's mobilization for the war in 1861 after Ft. Sumter. Soldiers appeared to be inadequately clothed, food was sometimes scarce, and medical assistance was minimal. In 1861, the Union government gave its blessing to a privately organized agency called the U.S. Sanitary Commission, designed to coordinate Union relief efforts. With her husband's support, she hired a housekeeper to care for the family and focused her energies for the next four years on the Chicago branch office.
In December 1862, Livermore and her friend, Jane C. Hoge, were appointed co-directors of the Chicago office. As a leader in the Commission, Livermore set up local Soldier's Aid Societies in her vicinity, raised funds and medical supplies for the soldiers, lobbied for the relief effort, wrote Commission reports, and inspected hospitals. Mary came into her own as an organizer shortly after the beginning of the Civil War, when she became director of the Northwestern branch of the United States Sanitary Commission. The USSC was founded to serve a dual need: On the one hand, the army's medical and sanitation services were hopelessly inadequate. On the other hand, volunteers and donations of food and clothing were pouring in from all over, but they were disorganized and often wasted before they could reach the troops that they were to help. The Northwest Branch became the agency that checked and shipped donations, coordinated volunteers and medical care, and established sanitary procedures for hospitals and army camps.
As one of the founders of the Chicago branch of the United States Sanitary Commission in 1862, Livermore's leadership role in the Sanitary Commission expanded by the spring of 1862. In that year she travelled on her first hospital inspection tour, visiting facilities in both Southern Illinois and Missouri. She met with wounded soldiers from the Battles of Fort Henry and Donelson. She personally delivered and coordinated the delivery of supplies to the battle fronts. During these many visits, she acted as an attentive nurse, and transported discharged, wounded soldiers to their homes. As part of her war relief work, Mary Livermore had many opportunities to speak, during which she rallied women together and encouraged them to volunteer in support of the soldiers of the Union.
In 1863, both Livermore and Hoge organized the Great Northwestern Sanitary Commission Fair, for which Mary convinced President Lincoln to donate an original copy of the Emancipation Proclamation document for auction. The Chicago fair raised nearly $100,000 for the soldiers, and it became the model for similar fund raisers in the North. Chicago had six halls that were filled with items for sale to raise funds. This was the first of a series of fairs that were held in Cincinnati, Boston, New York City, and Philadelphia. She organized 12,500 local aid societies in 18 months in the Midwest.
When the war ended, Mary rose to leadership in the women's suffrage movement, writing and traveling widely as she lectured and chaired meetings. In 1868, she organized the first suffrage convention held in Chicago. She launched the Agitator, a suffragist paper, in January, 1869. Later in the year, she attended the founding convention of the American Woman Suffrage Association in Cleveland, Ohio, and was elected vice president.
By 1870, Mary Livermore and her family moved to Boston so that she could edit the nationally circulated newspaper Woman's Journal. She merged the Agitator with this paper, serving as editor for two years. The American Woman Suffrage Association, which sponsored the Woman's Journal, was the more moderate of two competing suffrage organizations based in the East. For the last thirty-five years of her life, Livermore lived in Boston, writing articles, lecturing widely, and earning a reputation as a stalwart in the women's rights movement.
In 1887, she first published a detailed account of her Sanitary Commission days in "My Story of the War a Woman's Narrative of Four Years Personal Experience as nurse in the Union Army…" Not only did Livermore tell her own story in this volume, but she also included details regarding the work of other Northern nurses and women volunteers. This work is a great and important primary resource on the role of women in the Union relief effort. Later in life, she published her autobiography called, "The Story of My Life," which includes additional anecdotes from her Civil War experiences.
Like many Universalists of the time, she was interested in spiritualism. Following her husband's death in 1899, she became convinced that he had tried to communicate with her through a medium. Mary Ashton Livermore died at her home in Melrose, Massachusetts, on May 23, 1905, at the age of 84.
One other little known fact about Mary Livermore was that she was a close friend of Sarah Borden, the mother of Lizzie Borden. During the trial of Lizzie (for killing her parents), Mary Livermore was given permission to interview Lizzie in jail. A horde of reporters then haunted Mary to glean any information that Lizzie told her.